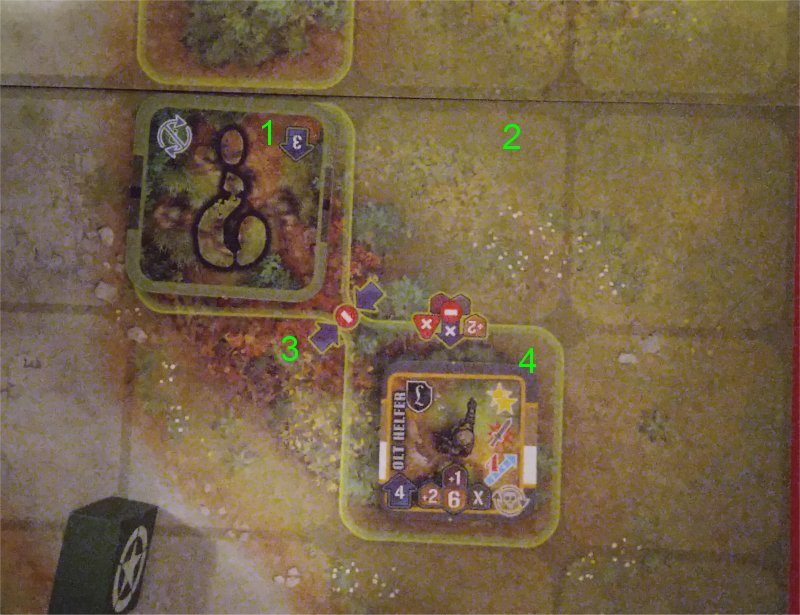 Quote from corporationman on [31/03/2021] à 10:18

1) is movement between squares 1 and 4 allowable (assuming the target square is free, of course)? I would say yes, but the destination remains difficult passage, so the unit has to stop immediately after entering the square;
The No Passage symbol only blocks passage (and LoS) between the two squares linked by the arrows (Compendium, p. 18). For the two units in the bocage, it is like moving through any OTHER section of Bocage.
2) there is LoS between squares 1 and 4? I would say yes as they are adjacent, and the bocage/hedgerow square needs to be crossed to block LoS;
According to the rules for LoS, you do not count either the square of the firing unit or the square occupied by the target. If these two units were orthogonally opposite each other instead of diagonally opposite, there would not be any question that they have LoS. So I would say it would be the same in this situation.
3) does the unit on its ambush active side need to be flipped in its inactive side? I would say yes here again, because (as per the point above) there is clear LoS between squares 1 and 4, and the ambushing unit is within 2 squares from Lt. Helfer.
Correct, according to my previous point.
Also related to ambush, but not to the battlefield:

4) deployment rules (Compendium, p.32) says units have to be deployed with the name printed in white side up. So I assume is not possible to deploy ambushing units in their active status at the beginning of a match?
Read the general rules for Change of State abilities (Compendium, p. 39). It is just under the heading and covers such abilities and deployment.